PDC Drilling Bits, Polycrystalline Diamond Compact Bits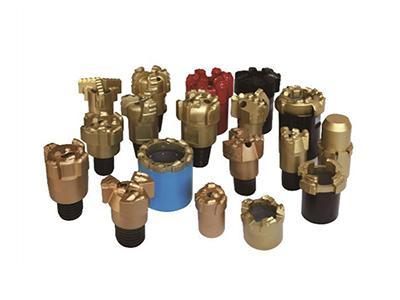 1, Flat Face PDC Non-coring Bits (Newest Design)
Description: This kind of diamond tool has good performance for various rock formations, and it is mainly used for general drilling. The powdered metal matrix ensures strong abrasion resistance and long service life. Advanced geometric design is adopted for fast penetration.
2. Multi-Blade PDC Non-coring Bits
Description: Multi-blade PDC non-coring bit is designed for opening holes. Standard PDC cutters are distributed on the blades. Balance design is used to improve the stability and efficiency of drilling. It has the advantages of fast penetration and high drill efficiency in soft rock.
3. Round Profile PDC Non-coring Bits
Description: This product only has small interface with the rock. Column diamond is used to protect inner and outer gauge, in addition, extra PDC cutters are used to enhance gauge protection. The bit can be cleaned and cooled sufficiently due to the design of flow roomage. This product is widely applied to soft to medium hard rock formation.
4. Three (Four) Wings Round Profile PDC Bits
Description: Our round profile PDC bits are improved according to oil bits. High performance PDC cutters adopted can highly decreases the cutting resistance and maintains a long service life. This type bits have faster penetration, longer life and stronger adaptability than conventional concave multi-wing bits. It is widely applied to medium soft rock formation.
5. 3 Blades PDC Bits
Description: This product is a new design type blade bit. It has three blades and capacious flume. 3 blades PDC bits enjoy the features of high drilling efficiency and fast penetration. The capacious flushing ports ensure that debris can pass through quite fluently. They are applied to medium hard rock formation.
6. PDC Reamer Bits
Description: PDC Reamer bit is applied to reaming and drilling in medium hard rock. With the features of good guidance capability, sharpness, stable use and abrasion resistance, our PDC reamer bits are widely applied in medium hard rock.
7. Three Wings Concave PDC Non-coring Bits
Description: The stability and efficiency of drilling are largely improved owing to the balance design of cutters. Flow roomage is specially designed so that bit can be clean and cooled sufficiently. This type PDC bit enjoys the features of good stability and universality. It is applied to soft to hard rock formation.