Heavy Duty Pipe Wrench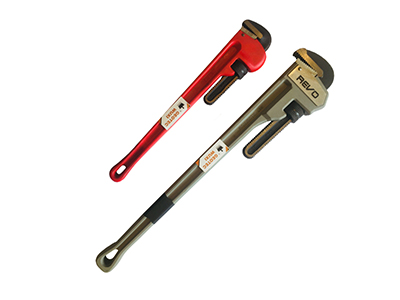 Brief Introduction of Heavy Duty Pipe Wrench
Heavy duty pipe wrench is made of cast iron with excellent quality. It is widely applied to plumbing and oil exploration projects. This pipe wrench is also used to turn or hold smooth cylindrical objects. Its double fast jaw is available for fast and ratchet-like action in either direction. It is also used to turn iron pipes and fittings.
Features of Heavy Duty Pipe Wrench
Made of quality raw materials: highly durable, corrosion resistant and excellent finish.
Self-cleaning threads, malleable iron handle and long service life.
This heavy duty pipe wrench is one of many top quality items in Geotec. For more information, please contact us.
Available Size of Diamond Circle Wrench
10",12",14",18",24",36",48",60"